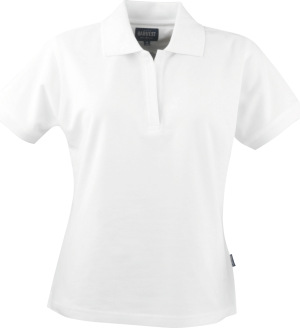 Outlet

James Harvest Sportswear – American Polo Ladies (Women) 🔗
Article Nr.: HVPS002

Modernes Damenpolo in figurbetonendem Schnitt mit Nackenband. Doppelnähte und moderne Führung der Schulternaht. Enzymgewachsen für eine weiche und glatte Oberfläche, dadurch vorgeschrumpft und für Allergiker geeignet. This product can be printed and embroidered too.
Please note that - as this is an outlet product - some colors or sizes will become unavailable over time, and that eventually the whole product will be removed. In case you plan ordering more from this item later, we suggest choosing an other, similar product.
100% Baumwolle
260 g/m²
Piqué
Shipping time without logo: approx. 2–5 days.
Shipping time with logo: approx. 14 days.
Tech. Nr.: 2125019
Discount prices
| from 15 pcs. | from 30 pcs. | from 60 pcs. |
| --- | --- | --- |
| €22.17 / pc. | €20.55 / pc. | €19.81 / pc. |
incl. 19% VAT, excl. shipping costs
Properties
Fitted

100% Cotton
Similar products